FitzGerald Farms Training & Lesson Programs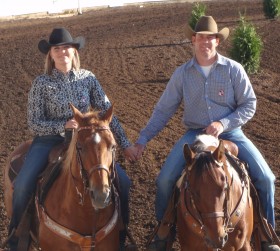 We are lucky enough to have two talented horse people at our farm who can help you with all your horse needs!
Erica and Josh FitzGerald have a combined 40 years of horse training experience and have combined thier passion for horses with their love of educating youth. Erica and Josh have created a successful riding lesson program and produced extensive, interactive summer horse camps for youth ages 5 years to 18 years. They are also the proud founders of Teens and Oregon Mustangs, Inc., a non-profit program for youth ages 10 to 18 years.
Whether you're a beginning rider, a seasoned pro, have a horse that needs to be started or finished, or have horse-crazy kids who want to experience horse camp or take lessons – Josh and Erica can help. Check out their pages for information on their specific horse skills and be sure to contact them by phone or email to discuss your horse needs.