Team Penning
Training, Events & Clinics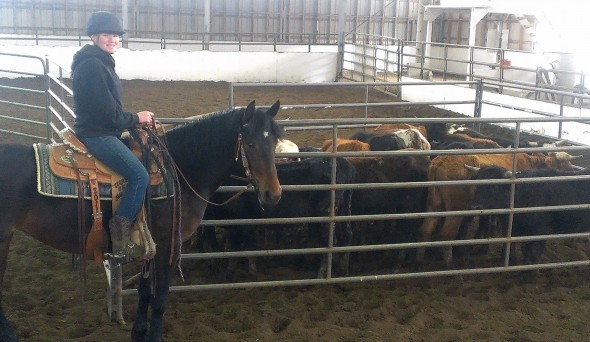 Team Penning  is an equestrian sport which evolved from the ranch work of separating cattle into pens for branding, doctoring, or transport.  This fast paced event gives teams of three riders 90 seconds to sort and pen three same numbered cows from a herd.  Time starts when the line judge drops the flag as the lead rider's horse crosses the foul line.  At that time the announcer identifies the number the team must cut out of the herd and take to the opposite end of the arena, pen them, and call for time.
Team work is the key to all three riders working in harmony to cut out the correct cattle and drive them to the pen while keeping the rest of the herd back.  FitzGerald Farms offers Team Penning Clinics to hone your skills and a competition to apply your new knowledge in a family friendly environment.
At FitzGerald Farms, Team Penning is a low pressure competition.   No matter what your riding pursuit is, English or Western, learn to read cattle, handle cattle, and compete for buckles and points in a four-part series over four months.
Fun for the whole family.  Lunch available on site.