FitzGerald Corrals
FitzGerald Farms, LLC. DBA FitzGerald Corrals is the Oregon and Western Washington distributor of WW Livestock Equipment, Clear Water Fencing, and Ranchers Livestock Equipment.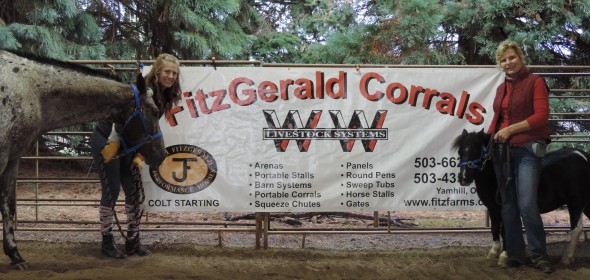 Heidi Herriott

(R) and a clinic participant (L) using a FitzGerald Corral for a Trick Horse Clinic
Established in 1948 in Thomas, Oklahoma, WW Livestock Systems manufactures livestock handling systems, livestock chutes; crowd alleys, livestock scales, panels and gates, equine housing systems; rodeo equipment available in either hot-dipped galvanized, baked-on powder coated, or painted versions. WW Livestock equipment is manufactured from the highest quality US 50,000 PSI high tensile steel from Texas which is, twice the tensile strength of other panels.
Clearwater Equipment was founded in 2019. Clearwater provides residential and commercial fence throughout the Northwest.  They specialize in livestock equipment manufacturing and supply these products Nationally.  Every essential product for horse/livestock containment is manufactured by Clearwater. They build safe, strong, and extremely durable products that are designed to last. From perimeter fencing, arenas, round pens and gates, to shelters, paddocks, and more!
Ranchers Livestock Equipment began operation in 2007, manufacturing Livestock  Feeding and Containment Equipment.  They are located in South-Central  South Dakota in the small town of Gregory.   The Livestock  Feeding Equipment includes Bale Feeders, Fence Line Feed Bunks &  Fence Line Feed Panels, Grain & Silage Troughs, Creep & Self Feeders and Cattle  Rubs with Mineral Barrel Holders.  Their Livestock Containment  Equipment includes Corral Panels, Gates, Windbreak Panels, Portable  Tub/Alley, Loading Chutes and Calving Pens.
Custom design services are available for corrals and rodeo arena facilities from FitzGerald Corrals. For more information and specs on all Equipment contact Pat FitzGerald at 503-662-4832 or 808-896-1549. You can also use the contact form below: